Back in September I predicted a merger between SuperMedia and Dex One. However, there've since been other developments and rumors coming out of these yellow pages companies which lead me to suggest a possible "trifecta" — a three-way acquisition/merger could be in the works between AT&T's Yellow Pages (NYSE:T), SuperMedia (NASDAQ:SPMD), and Dex One (NYSE:DEXO).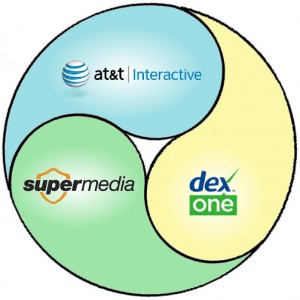 These three companies operate some of the largest print and online yellow pages in the country, with AT&T Interactive operating YP.com, SuperMedia operating Superpages, and Dex One operating DexKnows. Read on for more speculation and observation on my part.
For some years now, I've expected that the Yellow Pages industry should expect some reduction in the number of players involved. As these companies have struggled with large debt loads, some decreases in print advertising sales, and competition with local search engines such as Google Place Search and Google Maps (not to mention competition with other local-oriented online services such as Yelp, CitySearch, Local.com, Facebook, etc), it would make sense for the competitors to pool resources. A merger/acquisition could reduce costs through synergies, combine client pools, and perhaps make a stronger contendor to compete with other local search players.
Back in September, I'd predicted a merger could happen between SuperMedia and Dex One, in part based upon their announced joint distribution agreement. However, I've since seen AT&T's YP.com ads appearing in Superpages.com search results, and there are other interesting indicators, including changes in leadership and personnel.
In December, SuperMedia appointed Peter J. McDonald as CEO. McDonald was previously President and COO of RH Donnelley Corporation (now named Dex One), and was also previously President and CEO of SBC Directory Operations (which is now AT&T Directory Operations).
Before being renamed "Dex One", RH Donneley acquired the directory publishing business of SBC Communications in Illinois and northwest Indiana. Since SBC merged with AT&T, and as part of the acquisition agreement for the directory publishing business, Dex gained a 50-year licensing agreement to publish directories for AT&T (I'm not sure if that's for all of AT&T's territory, or just for a few states). So, these companies have had close ties already for some time now.
Dex One has recently let go some top executives, with the departures of George Bednarz, executive vice president of enterprise sales and operations; Sean Greene, senior vice pesident of interactive; and Maggie Le Beau, senior vice president and chief marketing officer. Dex's new CEO Alfred Mockett stated that they would be reorganizing the company's leadership structure and making further announcements in here in the New Year. It's quite possible that the removals now clear the way in preparation for merger, however.
While SuperMedia (formerly "Idearc Media") and Dex One (formerly R.H. Donnelley) have emerged from Chapter 11 bankruptcy reorganization activities, they still are struggling with performance and their main stockholders or debt holders are likely motivated to take major actions to transform them. SuperMedia has been declared a bad stock by some analysts with yet others predicting continuing losses, and Dex One has been called a big loser by others. Since emerging from Chapter 11, their stocks just have not performed well:
I know from speaking to a number of past and current employees that SuperMedia has layed-off quite a lot of people during the past year as well, and have been working towards outsourcing of many functions overseas. Dex One has also reportedly been trying to trim annual expenses by 10%, which means some substantial layoffs have been under way there as well.
By contrast, AT&T's yellow pages and interactive units have continued to operate strongly over the past few years, and are probably in a great position to be able to buy some companies. In this case, there could be some advantages to acquiring SuperMedia and/or Dex One. By doing this, AT&T gains greater market footprint in territories dominated more by these other directory publishers, while also removing some of their biggest competitors. They also would gain a few valuable online properties such as Superpages.com and DexKnows.com, instantly giving them greater online reach (more than the distribution agreement they apparently already have).
I'm hearing a lot of merger rumors surrounding what may be going on between these companies at the moment, and along with the speculative rumors there appears to be indications that increasing cooperation may be going on between them in terms of the distribution agreements. Along with possibly-preparatory changes in leadership, I think there's maybe a good chance of a sort of "trifecta" merger in the works. We'll have to see who may be given first seat, second and third in the structure if and when it happens.
It's going to be interesting to see what unfolds this year in yellow pages and the local space!
Tags: acquisitions, AT&T, at&t yellow pages, company rumors, dex media, Dex One, DexKnows, directories, directory publishing, mergers, phone companies, SuperMedia, Superpages, telcos, telephone companies, Wall Street rumors, Yellow Pages, yp.com