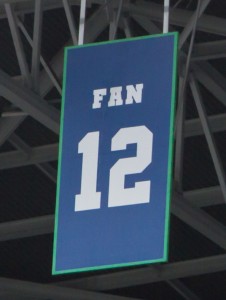 The Seattle Seahawks have applied for 24 trademarkes in the last 15 months, three of which involve the number "12". As I wrote a year ago, the Seahawks were once sued by Texas A&M over using the "12th Man" name. That earlier suit was settled, resulting in a multi-year licensing agreement. The Seattle Times reports that the Seahawks are aggressively registering a few variations, such as "The 12s", "We Are 12", and others.
The Eagle's article on the subject quotes A&M's Interim V.P. of Marketing & Communications, Shane Hinckley, stating merely that the licensing arrangement satisfies A&M's needs and that the Seahawks have been a "great partner". However, the agreement will expire in mid-2016 if the two teams do not renew it.
Can A&M officials actually be happy about the Seahawks' efforts to trademark variations around the number 12?
A&M Alumnus Dale Payne, president of the Western Washington Texas A&M Club, speculates that the Seahawks' activities are a ploy to negotiate for more profitable terms when the agreement comes up for potential renewal next year.
I disagree — I doubt that merely better terms are behind the Seahawks' actions. From their perspective, an ideal scenario for potential merchandising of team-trademarked products would not involve sharing revenue with another team — they want to own their marks outright.
The Seahawks have a dilemma in their current situation: many years of tradition have established the "12th Man" name with their branding. They're apparently trying to shift marketing and fan usage over to a name like "The 12s" or "The 12". They have their work cut out for them — Google statistics show that people in Washington State are searching for "12th Man" many times more than "The 12s" or "We Are 12".
I predict that if the Seahawks' new "12" trademark applications are granted by USPTO, their marketing teams will rapidly try to transition over from all use of "12th Man" references. In fact, I'd predict that next year the agreement with Texas A&M University will not be renewed.
Aside from losing a little licensing revenue, is Texas A&M concerned by these newly proposed trademarks? I think that A&M officials should be concerned. Some of the Seahawks' applications sound way too broad, possibly overlapping 12th Man usage, and potentially a little confusing to consumers. The numeral "12", by itself, should be unacceptable, as should "The 12" — since A&M's mark is commonly referred-to as "The 12th Man". This is way too similar, I believe.
Not to mention, it's not altogether inconceivable that A&M might desire to create and use other future 12th Man variations for marketing purposes — should they allow the Seahawks to stake out the majority of the "12" playing field while A&M simply sits on a tiny little corner of "12th Man" only? (For one thing, "The 12" is only half the length of "The 12th Man", and it could remove the semblance of gender-specificity that the mark currently carries. Such a brand evolution is not unusual.) Not allowing for future branding development seems extremely short-sighted, and it could set a precedent whereby the Seahawks might be able to circle back around to contest the TAMU 12th Man trademark status again with a different outcome.
It's not surprising that the Seahawks would want to create and establish their own intellectual property in a new brandname. But, some of their ideas seem way too generic and potentially infringe on A&M's mark. Reading further, it seems their brand policing may be casting way too wide a net as well — for instance, trying to bar trademarking of "District 12", a placename of a fictional region from The Hunger Games.
Tags: 12th man, brand names, branding, brands, logos, Seattle Seahawks, Texas A&M University, trademarks