This is a pretty cool graphic interface I came across thanks to Giovanni Gallucci — it's for checking out your Foursquare usage data: Where Do You Go. It displays your checkins using heat maps: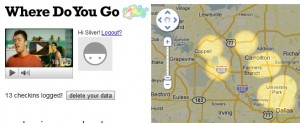 The Google Maps mashup was built using Foursquare's API, Python, and the Google APP Engine. I think it likely works better in Chrome or FireFox than in IE.
Creator Steven Lehrburger wrote that he created the display to graphically demonstrate to friends and acquaintances the areas which he frequents, and also as a project for a New York University mashups class he was taking.
It's quite conceivable that Google could use similar user data in calculating personalized local search results and in figuring out the relative popularities of places within cities and neighborhoods. Google's geolocation data for users is increasing and improving daily.