I can't resist mentioning Google's Dracula themed logo today celebrating the 165th birthday of Bram Stoker!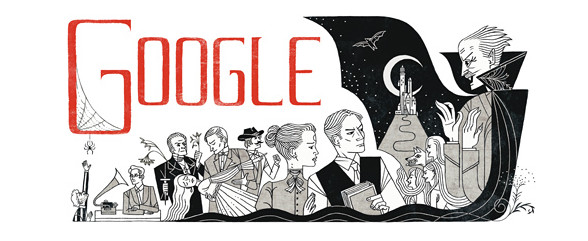 The logo presents scenes from Stoker's Dracula uber-famous vampire book, done up in a woodcut-illustration style very reminiscent of the illustrations of Aubrey Beardsley, from the same time period. Dracula was published in 1897.
What may be more significant for search marketers, however, is the special search results page the logo is linked-to, which features Bram Stoker-related books, the Sponsored "shop for" sidebar box and the Wikipedia entry highlights box, along with the usual Universal Search items peppered through the search results listings: news search, author-tagged posts, video and image search results.
This logo and associated search results treatment seems to be specifically designed to help propel featured sponsor ad clicks, as well as to promote Google's robust search results features.
It calls to question — will Google continue to specifically try to monetize their future Google Doodle logos in a similar fashion?