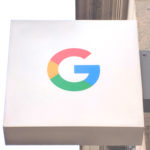 While I was in New York attending the recent SMX East conference, I learned that Google had recently opened a curious little pop-up store not far from where I was staying in Manhattan, in the Flatiron District. While perhaps the Google Pop-Up Shop's most interesting feature is a Stranger Things 2nd season tie-in, the shop was set up to promote their new Pixel, Google Home Mini / Max, and Daydream View products.
The new Pixel is their featured cellphone which I was fortunate enough to have obtained in the XL version just prior to the conference. Google Home is their "smart speaker" and home assistant that allows one to verbally query Google Assistant for information, and to control various features of one's home like lights, stereo, thermostats and other electronic devices — it's Google's product for competing with Amazon's Echo. Finally, Daydream View is a comfortable headset for holding a cellphone as a VR (virtual reality) viewer in front of your eyes, matched up with a handheld controller device.
The pop-up shop is an unassuming little store at the corner of West 16th Street and 5th Avenue, one block west of Union Square Park. It is marked with an understated little, square, rainbow-colored "G" sign, and the sign inside the door reads "Hey NYC! Welcome to Google @ Flatiron where you can explore, learn, play, and shop. Come in and test drive a few new things made by Google. #googlepopup"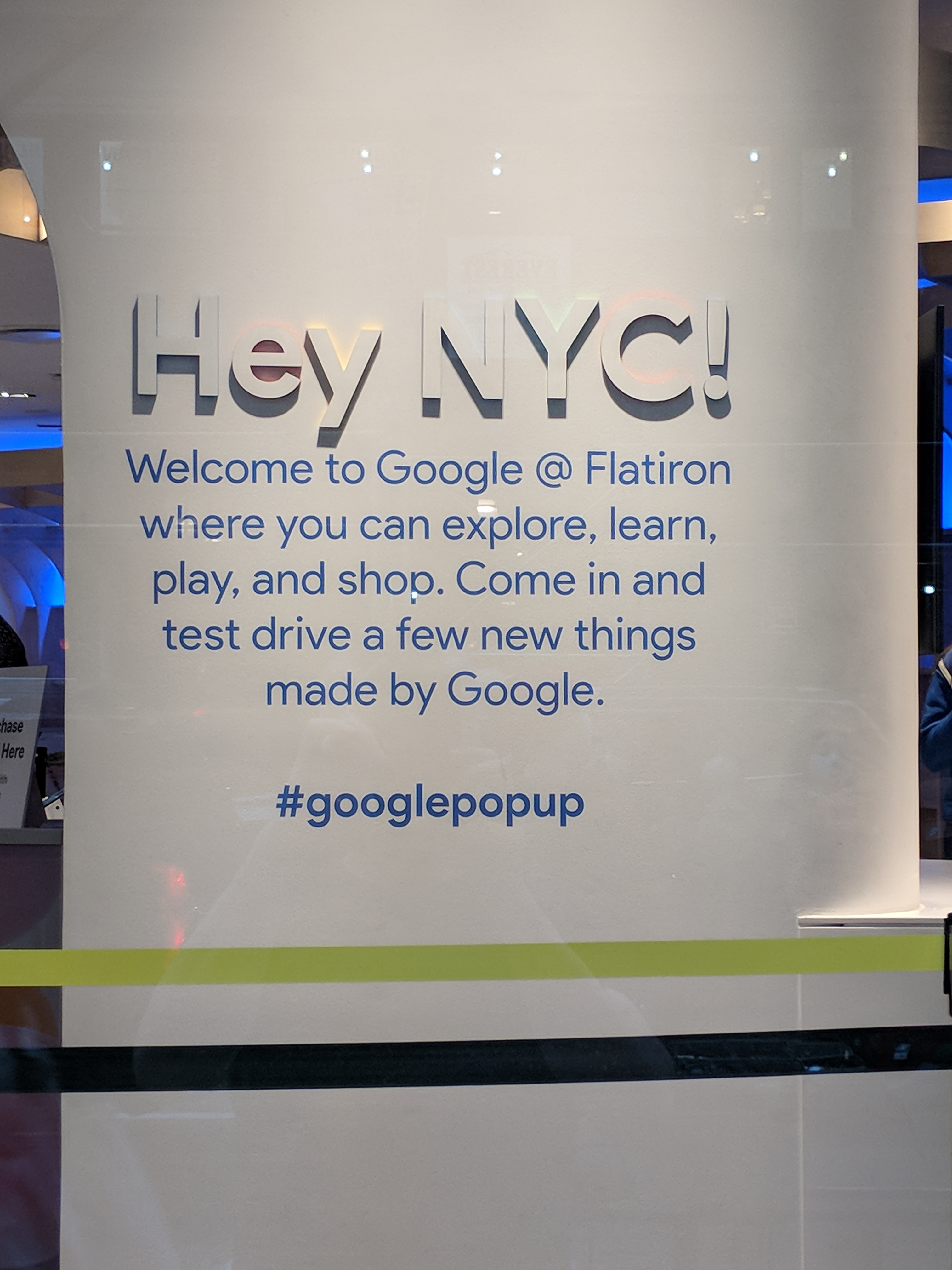 If you didn't look closely at the products, some areas of the store closely resemble what you find in Apple stores — they have used a lot of white space to highlight the products in a minimalist fashion on white-surfaced tables, and the cash register area at the back is pretty simple to the point of being downplayed. An implicit message is that this is not all about selling, just as the sign inside the door stated, but also about exploration and education. More cynically, read: It's also simply a promotional endeavor. Potential customers can also order online, but this brick-and-mortar shop is provided to allow one to kick the tires of products, ask questions of knowledgeable employees, and see things in action before purchase. The employees are also very casually dressed, like at the Apple Genius Bar — to the point where I didn't initially recognize for certain that they were employees until I grasped the concept of the place and could recognize them more readily. The place was so new that some of the employees had only been on-board for a few weeks.
Of course, there is a stealth element of many popup shops, so there was not just a whole lot of promotion around the store. This could work against such short-term stores, since there are undoubtedly more people who would go to them if they knew they were there. I was in New York to speak-at and attend one of the top search engine marketing conferences in the world, and a great many of the attendees would have beaten a path to the store if they had known of it. I myself only learned of the shop because I saw a vague post about it from one of Google's Manhattan employees that I follow on Instagram.
Since part of the point and charm of popup shops is only those who are "in the know" know about them, they derive a significant degree of promotion from the buzz generated by the "in-crowd". They are purposefully under-promoted to convey a sense of secretive exclusivity for those who visit them, and to imply a degree of scarcity that is fictional and temporary — popups are often considered a form of guerrilla marketing. They want some of you to know about it, but not all. By the time many people in the general public know of it, it will be gone. USAToday reports that this store in Flatiron and its sister in Los Angeles will only be around until December 31st. (Google has been involved in guerrilla marketing previously, of course — I've commented on Google's guerrilla marketing since at least 2010.)
Perhaps the most attention-grabbing part of the pop-up shop was one of its front showroom windows which contains the iconic living-room set from Netflix's Stranger Things TV series, along with an apropos set of Christmas lights hung on the wall amid alphabet letters, and Eggo waffle boxes on the coffee table in front of the couch. Visitors to the store are invited to have their picture taken in the set — either with their own phones, or via one of the souped-up new Pixel 2 phones held by a friendly Google employee.
The schtick is that when one's pic is taken with the Pixel 2, one has the option of overlaying cool AR (augmented reality) "stickers" into the space of the set when a photo is taken. When the AR stickers are enabled, the Demogorgon monster from the Upside Down and Eleven can appear in the scene with you — when viewing the combined scene in digital, you can see that the AR creature are 3-d projection and animated with a few different behaviors, similar to Pokemon Go creatures. The AR sticker effects are facilitated by the ARcore engine technology built into the new phones.
Sadly, my own brand-new Pixel XL phone, just released days before my visit to the Google Pop-Up shop, does not have the AR sticker enabled in the camera yet. The store employee told me that this will come within a few week when a system upgrade publishes to my phone. It seems like a pretty sad lack of coordination, however, to have released the new Pixel phones without this functionality while the pop-up stores have the Stranger Things living room photo-ops available. Tsk.
One cool feature of the Pixel I have is the fingerprint scanner, which allows one to unlock the phone with one touch. Of course, Apple has had similar Touch ID on phones since 2013, so this is really just playing catch-up with the competition. All the same, it feels like it is table-stakes at this point, since it is so convenient. (Being a technologist, I naturally think about convenience-vs-security. It's theoretically possible for someone to obtain one's fingerprint fairly easily, and then to use it to dupe such a system. But, they'd have to get both my fingerprint and my phone to do it. I read of instances in the recent Las Vegas Shooting incident where people were able to take dead or unconscious victims' phones and swipe their fingerprints to unlock the phones to notify their loved ones about the victims' status, and I can see some advantages in instances like that for unlocking phones for those who are incapacitated.)
One station in the shop has a series of plush stools lined up against a wall with a glowing mural of trees with a wide sky including the Northern Lights above. This area is for the demonstration of the Daydream View VR headsets. I took a headset from a couple of helpful Googlers and a controller, sat down, and tried it out. I first did a sort of indoor put-put golf that was fairly clunky and irritating in navigating. I then went on to try a sort of science fiction space game where one flies through tall stone plinths while trying to hit or pass through glowing light circles for points. It was irritatingly easy to hit the plinths and crash. Since the landscapes and scenes are run via smartphones, the 3-D projections are rather astoundingly primitive, like three dimensional animation from old Atari or Commodore systems from twenty years back. How many kids are likely to become addicted to these games when the current video games are so much more slick and sophisticated?
The VR on the Pixel probably does have viable applications right now, but video gaming doesn't feel like one of them.
One wall had a bunch of iconic photos and artworks (a pic of the top of the famous local Flatiron building was one photo, for instance) were hung on one wall, ostensibly for one to perform an image search upon with a Pixel phone in order to identify.
Other highlighted products included Google Clips (a miniature clip-on "smart camera" that's built to capture brief motion clips and to recognize expressions and moments that are particularly interesting or relevant), the Pixelbook, the Pixelbook Pen, Google Wifi, and Chromecast Ultra.
One curtained-off room seemed to be built simply to provide a beautiful, digitally-projected backdrop of colored lights for photo ops. If it was not for fun pics or brief videos, I honestly could not tell you why this room existed, or why they had a Google employee devoted to assisting one in taking photos! Was it simply to increase buzz about the store via social media?!? I don't know. I thought it looked just a bit like the old Star Trek transporter special effect, so I called out, "Ok, Google – beam me up!" I was then transported to a parallel dimension which closely resembled where I had originated, but which segued rapidly into a slightly surreal evening where I was abruptly attending an art reception for a cutting-edge, high-tech photo artist.
Additional displays in the store were apparently set up to promote various product accessories, like protective cell phone cases, or to prompt people to perform some types of searches via Google Assistant. In one instance, a couple of tall pop-art candles featuring "Saint Snoop" and "Saint Beyoncé" were on a shelf — why?!? Perhaps Google Assistant would have explained that, if I had asked.
A sound-proofed cell near the back of the store is used for Google Home device demonstrations, and another section next to it features the Google Home Mini. You can turn on a disco ball, play a predefined playlist on your stereo, change the volume of your music, set your thermostat, or even change the color of your lamp. Ask Google how many stars are in the Galaxy, what the status of traffic is to the airport, or to show videos of barista's latte art on a screen. On one shelf in the store, a "menu" is provided which suggests a number of the types of queries Google Assistant might answer:
"Hey, Google, make me a sandwich."
"Hey, Google, crystal ball."
"Hey, Google, how's my commute?"
"Hey, Google, turn the light on."
"Hey, Google, set the timer for ten seconds."
"Hey, Google, do I need a jacket today?"
"Hey, Google, play a podcast on science."
"Hey, Google, how many pounds are in a kilogram?"
"Hey, Google, add cardamom to my shopping list."
One can ask Google to turn on a retro style floor fan (what, not a Victrola?), and ask where the closest coffee shop is.
Clearly, the automated smart home envisioned in the early-to-mid part of the last century has largely arrived.
The Google Pop-Up Store also was hosting a book signing by fine art photographer Gray Malin who is known for his aerial photos shot with the help of drones. (See my post about the Gray Malin event at the Google Pop-Up Store.) Google is apparently also collaborating with various artists in co-promotion efforts in order to engineer as much "coolness" factor into the popups as possible.
Tags: AR, AR stickers, Augmented Reality, Daydream View, Google Home, Google Pixel, Pixel 2, Pop-Up Stores, Stranger Things, virtual reality, VR